MV 75 Fiberglass mast
FIBERGLASS MAST FOR MOVABLE, FIXED and DX EXPEDITIONS use.

mod. MV75 , 7.5 m ( 24.6 ft )

BIG ROBUST LIGHT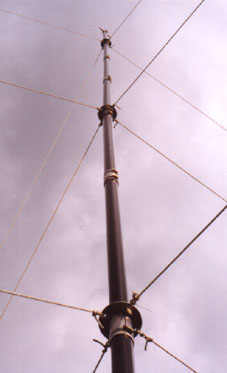 Download fiberglass mast documents:
MV75 + K75 + K12 specifications
Image 1 ( MV75 ) Image 2 ( MV75 + K12 )
Mod. MV75 is a standard fiberglass mast consisting of n° 5 pcs. of joinable sections with a length of 1.5 m ( 4.92 ft ) each. The mast is very light considering that each section weights 1.3 Kgs ( 2.88 lbs ) only, its complete height is 7.5 m ( 24.6 ft ). It is extremely strong and made of 60 mm ( 2.36 in ) outside diameter fiberglass tubes with a thickness of wall of 2,5 mm ( 3/32 ). Therefore it is able to support both yagis and vertical antennas for VHF and UHF, small beams for HF as well as D2T ( max weight of HF beams is 12 Kgs. , 26.6 lbs), dipoles ( long and heavy ), delta loops, slopers, vertical wires etc.
MV75 has been designed for movable camping use because of its compactness, lightness, versatility and fast assembly, but is to be used for fixed stations as well. It is indicated for DXpeditions, contests, weekends, holidays and for civil protection use.
Three more sections can be added ( mod. K 12 )in order to reach the maximum height of 12 m ( 39.3 ft ). The maximum weight of yagi antennas is then limited 5 Kgs (11 lbs.), but there are no limits for wire antennas.

Mod. MV75: package : 5 joinable fiberglass sections.
Box: 0.20 x h0.16 x 1.53 m , 7.5 Kos. ( 7.8xh6.3x60.2 in , 16.6 lbs )

Mod.K12: ( extension Kit at 12 m ,39.3 ft, height. Also MV75 are required.) package:
- 3 joinable fiberglass sections
- 2 set of ring for fixing guy rope
- guy rope Ų 4 mm (5/32) (188 m , 616 ft)
Box: 0.20xh0.16x1.53 m , 8 Kos. ( 7.8xh6.3x60.2 in , 17.7 lbs )

Mod. K75 : package:
- base for MV75
- mast - top for fixing yagi or wire antennas
- 1 set of ring for fixing guy rope
- guy rope Ų 4 mm (5/32) ( 40 m , 131 ft )
- pegs (4 pcs.).
Box: 0.32xh0.08x0.32 m , 3.5 Kos. ( 12.6xh3.1x12.6 in , 7.7 lbs )