HF/VHF directional antenna Mod. D2T-M , 1.5 - 200 MHz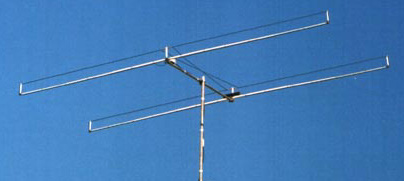 COMPACT ANTENNA SYSTEM FOR TACTICAL AND

FIXED USE
REVOLUTIONARY DESIGN - SMALL SIZE - IDEAL FOR
RESTRICTED SPACES
HF Compact and light directional antenna suitable for operation covering medium to long distances.
Used for the transmission and reception of horizontally polarized signals.
Frequency range: 1.5 - 200 MHz
1.5 - 200MHz CONTINUOUS COVERAGE

NO TUNING REQUIRED

USES ONLY ONE 50 OHM COAXIAL CABLE

BOOM: 2m (6.6ft)

ELEMENTS: 6m (19.8ft)

WEIGHT: 6kg (13lb)
DESCRIPTION:
The D2T is a non-resonant high-impedence antenna, composed of two folded dipoles dephased by 180°. It has a non-inductive terminating resistor and broadband RF transformer fed with a single 50 Ohm cable. The D2T is bi-directional starting from about 10MHz with 10dB F/S. At 21MHz it gains 3dB with 5dB F/B and 10dB F/S, and progressively it reaches 6dB at 30MHz with 5dB F/B and 20dB F/S. At VHF it shows a daisy-type radiation lobe. Up to about 15MHz both the transmitted and received signals are attenuated (see the 'Yield' graph).
More info ....