HF antennas, rotators, mast & towers, guy rope, current balun, antenna wire and more.......

HF/VHF directional broad band antenna mod. D2T, 1.5 to 200 MHz , 1 KW PeP , only 6 Kg..... more info

Quad antennas, 2 and 10 Kw, from 2 to 6 elements HIGH QUALITY QUAD ..... more info


Current balun 1:1 , 2 and 10 Kw .... more info 2 Kw

10 Kw


Big rotators for big antennas , antenna rotators , from GE 1500 to GE 8000 .... more info

Discontinued click for new type

Fiberglass mast MV series, for Dx expeditions and movable use .... more info

Mast CP series, square pole with carriage .... more info


Triangular tower with carriage, SR5 series .... more info

informazioni in Italiano


Parafil ropes and terminals , guy ropes for mast, tower and antennas ... more info


HFW2 antenna wire, the best wire for antennas .... more info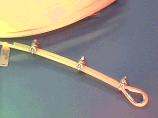 Mod. Ge 3031 Nylon Monofil is a new type of guy wire for antennas and masts. Monofil is not braided buit one solid wire of nylon, extremely solid, extremely low stretch, breaking load of the 5mm wire is 700kg! But still lightweight and weatherproof and due to the white color quite unobtrusive. For even higher breaking loads use several wires in parallel. Can be fitted with the usual mounting hardware.
Available: 50 , 100 and 480 m. coils
Technical Data 5mm Monofil GE 3031:
Material: 6 SNIA Nylon
Specific weight: 1.14 g/cm3
Specific breaking load: 35-40 kg/mm2
Breaking stretch: 15-20%
Diameter: 5 mm
Breaking load: 700 kg
New and used for sale ... more info